By Zach Wilson
Featuring Blake Murphy & Vivek Jacob
As a Raptors fan, confidence is an unfamiliar emotion. Any relatively sustained stretch of success was often preceded by the departure of an All-Star, whether it was Vince Carter, Chris Bosh. Then, when they finally rostered a couple all stars who wanted to stay in DeMar DeRozan and Kyle Lowry, they just weren't able to get over the King-sized hump in Cleveland.
It took 'till a fateful summer morning in July of 2018 for Toronto fans to feel true belief in their team. The acquisition of Kawhi Leonard made Raptors fans hold their team to a new standard—one which the team lived by winning a championship the following season. Even after Kawhi's decision to leave and go to Los Angeles, Toronto fans did not waver back into their old ways.
That confidence is still there today— albeit in a new form—which puts Toronto fans in unfamiliar territory once again. As mentioned previously, the Raptors often had trouble keeping their own All-Star-caliber players on their roster, but now it seems the team, front office, and fanbase is dead-set on acquiring Giannis Antetokounmpo in the 2021 offseason.
The front office has made it a goal to have max-cap space available in 2021 for a few years, and with Masai's sustained success, and his dated-back relationship with Giannis, Toronto fans finally have the results to justify their newfound confidence.
With the way Toronto, Miami, Dallas, and quite honestly, general NBA fans are discussing Giannis' free agency, it's as if he has the freedom to sign a new contract this offseason.
Well, I'm sorry to every fanbase (aside from Milwaukee), but he kind of does. Giannis is super-max extension, and is free to sign that deal this off season. If he does, every bit of this Giannis frenzy goes out the window. If he doesn't? We could see a lot of teams make a run at opening enough money to offer Giannis the max next offseason—and Milwaukee's brewing catastrophe could finally boil over.
As it currently stands, the only players under contract for the Raptors in the 2021–2022 season are Pascal Siakam, Matt Thomas, Dewan Hernandez, and Norman Powell (who has an $11.6 million player option). It is also a safe assumption that OG Anunoby will receive a rookie extension, and you can be 90 percent sure that Kyle Lowry will remain a Raptor.
The Raptors however, do have the ability to essentially run it back next season with a very similar team to this past year, which, even after what could be considered a disappointing playoff performance, was very successful .
Everyone from last season team remains under contract through next year, except for three players. The thing is, they are three guys who played key roles for the team both this past season and during the Raptors' championship run: Fred VanVleet, Marc Gasol, and Serge Ibaka.
The general belief is that Toronto will only have the cap space to maintain two of the three. Even though I still fully recognize the defensive prowess which Marc Gasol brings to a team, I have to believe that Masai Ujiri and his front office will take a run at VanVleet first, Ibaka second, and Gasol third.
I had the pleasure of talking with Blake Murphy, who covers the Raptors for The Athletic about Toronto's current situation with their three free agents. Murphy expressed how the Raptors want to do what they can to keep VanVleet on the roster, as he plays a large role in their culture—and their next championship window—if they can land a coveted star either through free agency in 2021 or via trade.
It does seem as though there will be several teams interested in VanVleet's services as well. Teams such as New York, and Detroit are expected to make a run at the 26-year-old point guard. The most attractive thing about signing Fred is that he is good enough to help a win-now team, yet young enough to fit the timeline of a potential rebuild.
I would expect VanVleet to receive deals around the three-four year mark, probably earning roughly $15–$20 million annually. Blake Murphy also told me that Toronto likely has a walkaway number, for which will be too expensive to pay a third/fourth option, but that is likely north of $20 million annually.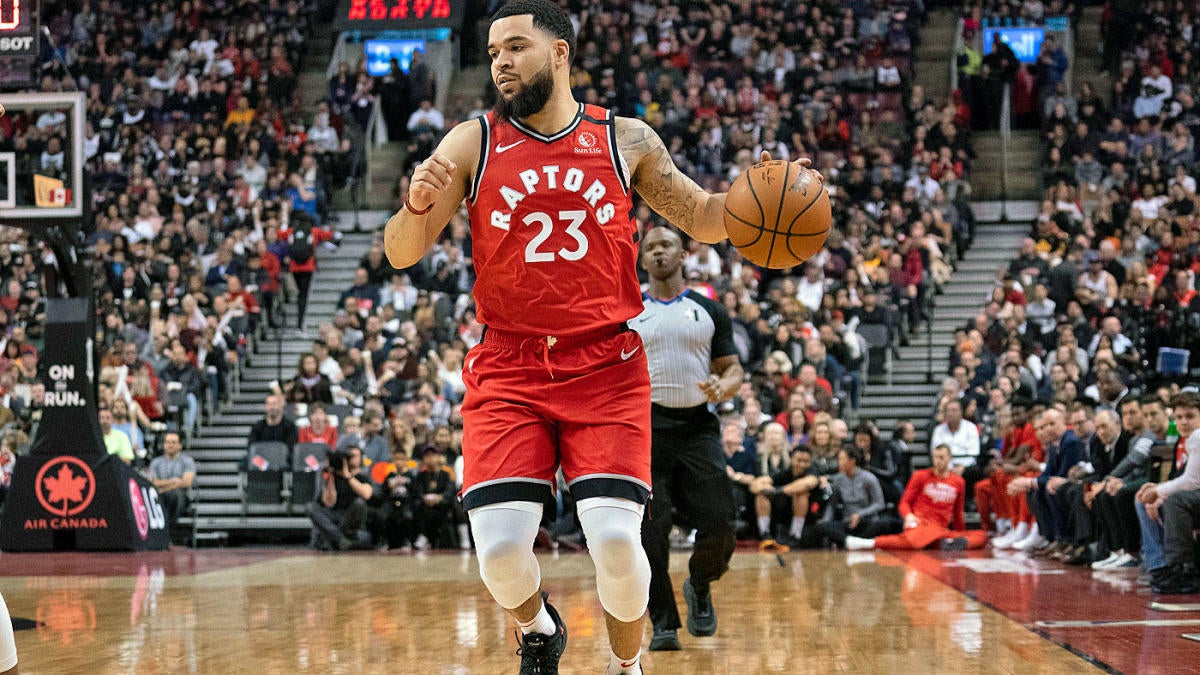 As for the centers, this is where it gets interesting. Both Ibaka and Gasol are above 30 years old, however Serge is still four years younger than Marc. Serge seems to be aging like fine wine, and only getting better with age, and Gasol is on more of a downward slope as he ages closer to retirement, or potentially playing overseas.
Based off that small excerpt, it would seem that Ibaka is the easy choice. However, Gasol, for as much as his offense has faltered, is still one of the most important defenders on the Raptors. Gasol registered the best defensive rating out of anyone on the Raptors last regular season (minimum eight minutes per game) at 98.9.
Blake Murphy also gave me his thoughts on what the Raptors will do as far as their centers go. He brought up a running theme amongst the majority of teams this offseason, and that's the importance of 2021 cap space. Murphy did note that those may have just been projections of his own feelings, but he can't see neither Ibaka or Gasol signing anything past a one-year deal should they remain in Toronto. He also mentioned that it will likely be an inflated deal, as money for this upcoming season isn't necessarily an issue.
My personal prediction is that the Raptors sign Fred to a four-year deal, with a player option on the final year, for somewhere around $75 million. As for the frontcourt, I believe the Raptors bring Ibaka back on a one-year, $18 million deal, and that Gasol will not remain in Toronto, whether that means he joins another NBA team, or goes back to play in Spain, as was previously rumoured this off season. These signings allow the Raptors to remain competitive this upcoming season, while still keeping the books open for a potential Greek all star next off season.
I also exchanged messages with Vivek Jacob about some non-Raptors free agents, that he'd like the Raptors to consider. He brought up two players:
Nerlens Noel: We saw a lack of athleticism hurt Toronto against Boston to the extent that Robert Williams was able to play meaningful minutes. Assuming only one of Ibaka or Gasol returns, offering Noel a 1-year mid-level to be the backup makes sense. Whether Noel would be interested in that is the bigger question.
Harry Giles: A more realistic option, Giles should be intrigued by the opportunity to play for a stable, successful organization after starting his NBA career with the Kings. Again, a 1-year flier.
Vivek, like many others, preached the theme of one-year deals. Both of these options are certainly intriguing, as Toronto has lacked athleticism at the center position for a while, even before Ibaka and Gasol when they were starting Jonas Valanciunas. That's no disrespect to any of those players, but none of them would necessarily be considered athletic freaks during their tenure with the Raptors.
Another athletic center to keep an eye on is Montrezl Harrell. This has nothing to do with rumours, and everything to do with my personal speculation. Between the Raptors being the only team he follows on Instagram, and Harrell naming his AAU team the "Team Trez Raptors," Harrell and the Raptors have either already locked in on a deal, or he is putting together a fantastic troll job, and I personally appreciate it either way.
Toronto should have an interesting offseason ahead—and that's before we even get to the loss of Nate Bjorkgren to the Indiana Pacers, the new uniforms, and the mystery behind where they'll be playing their home games if the border remains closed.
As per usual, Masai Ujiri has not let any of his plans slip out to the public. However, they can't keep secret their 2021 cap space, Masai's previous relationship with Giannis, and the fact that Giannis is the perfect fit for this roster. The Raptors used to lose their stars before they reached the pinnacle; now, they're a destination for players hoping to join them at the top.