By Zach Wilson
Big Shoutouts to Brad of Too Much Hoops and John Chick of theScore for helping put this together as well!
Quick! List your top five current NBA players. The majority of you are probably picking from players such as LeBron James, Kawhi Leonard, Stephen Curry, Giannis Antetokounmpo,  and a few other guys, depending on your taste.
What is the first thing that you think of when you see these players, and why in your opinion are they all top-end talents?
For Stephen Curry, it's probably his three-point shooting, and his one-of-a-kind ability to be an NBA offense in himself. For LeBron, it's likely his court vision and strength to get to the hole and finish through nearly anybody.
All of these players possess fantastic and specialized offensive traits, which is what makes them such dominant players. Yes, Leonard and Antetokounmpo are two of the top defenders in the NBA as well, but it's their impact on the offensive end that makes them legit MVP candidates.
For a player like Fred VanVleet, the immediate focus is likely on his shooting ability. A 39.3% career three-point shooter, VanVleet is not only capable of playing a complementary offensive role off guys like Pascal Siakam and Kyle Lowry, but also controlling the offense and shooting out of pick-and-rolls as well.
What's beginning to grab a lot of recognition is his defense. The Raptors as a whole are one of the best defensive teams in the league, and have been for the past two seasons. Part of this has to do with the defensive-minded players on their roster, and part of the credit has to go towards Nick Nurse's defensive philosophies and game plans.
This season, Toronto went unconventional (as Nurse's teams often do) in starting Kyle Lowry and Fred VanVleet, two guards who reach six feet tall on a good day. This often forced one of the two to match up against an offensive player five or six inches taller than them. Luckily for Toronto, both of these players are more than capable of playing bigger than their physical size.
However, as much as both of them are strong on-ball defenders, it's their off-ball defense which makes them, and this team special—particularly Fred VanVleet!
I've been known to say, and I stick by it: Fred VanVleet is one of the best off-ball defenders I have ever seen. He's constantly locked in on both his man and the ball, and is always in the right place at the right time.
I had the pleasure of exchanging messages with John Chick of TheScore, and asked him of his opinion on Fred VanVleet's off-ball defense.
"I think his off-ball D is just a combined byproduct of his high hoops IQ, and the Raps defensive system" (John Chick)
Fred is an elite off-ball defender, and in this article, I break down some of the areas where he is so strong, and how he thrives on the defensive end.
Positioning & Weak-Side Help
The majority of man-on-man defenses play with a concept called gap principles. The 'gap' is essentially the positioning an off-ball defender places himself in relative to where the ball is. If the ball is at the top of the key, and you are guarding the man on the wing, you are considered to be one pass away, and if you are defending a player in the corner, you are considered two passes away.
The rule of thumb in a base-man defense is that you stand an equal distance between the ball and the man you are defending, keeping both in your line of sight at all times. Your positioning while guarding off-ball is the most important aspect of playing defense. Every player has to be in the correct position in order to help, and rotate properly. This is what makes the Raptors—and specifically Fred VanVleet—so strong defensively.
In this clip, you can see VanVleet in perfect gap position, with the ball in his direct line of sight, and his man in his peripheral vision.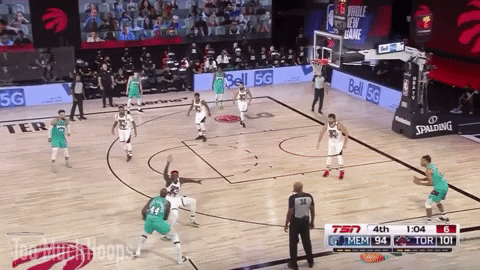 As Dillon Brooks drives the ball, Fred begins to widen his gap—partially to cover Anthony Tolliver as he dives to the net, but also to remain in the correct gap position. This allows him to pick up Tolliver and make a play on the ball when it gets entered into the post. John Chick says it perfectly: "He always rotates right and hustles into disrupting passing lanes"
Sometimes, specific players call for a specific defensive game plan, and a lot of the time, that defensive game plan unfolds primarily while guarding them off the ball.
Here, we see VanVleet matching up against Duncan Robinson, one of the best three-point shooters in the league. Coach Nurse clearly made a point to suffocate Robinson and not allow him an inch of space to get his shot off. The majority of the responsibility when guarding an elite shooter is tracking them off-ball.
It is clear right off the bat that VanVleet isn't playing in his gap because he needs to remain close to Robinson in case he makes a sudden move, runs off a screen, etc. Even when Bam Adebayo drives into the lane, VanVleet doesn't jab, or jump the driver, because his responsibility is to stay close to Robinson.
VanVleet's off-ball positioning gives him a short close-out, and he's able to steal the ball before Robinson has the chance to make a move.
Closing Out
A good closeout can be the difference between a successful defensive possession and a failed one. Whether you're running a shooter off the line, contesting a shot, or simply closing out while retaining proper guarding distance, a good closeout takes pristine technique, and a lot of effort.
A proper closeout involves sprinting out to the ball, and chopping your feet when you get within a couple steps of the ball handler. Depending on the coach/player, sometimes they will prefer two hands up, but some will prefer one hand up, and one down.
For a player of VanVleet's stature, a proper closeout is imperative., It is important for him to always extend an arm into the air, and chop his feet to get into a proper defensive stance, and be ready to shuffle laterally.
In this clip, we see a closeout with perfect technique: hand in the shooter's line of vision, and feet chopped, so as not to get caught flat-footed.
Due to his decision to double-team LeBron James in the post, VanVleet arrives slightly late, causing him to overrun the closeout. Some may view this as an accident, but typically, when you arrive late to a closeout, the only option is to run the shooter off the line. Had VanVleet decided to stop in front of Kentavious Caldwell-Pope, KCP would have had ample room and time to rise over Fred and shoot.
"The guy never ever gets lost on a play, never gives up and, therefore, is almost a step ahead of any switch or help that's needed" (John Chick).
Even when it seems Fred might be a step behind, like on this play, he is still ahead of the opponent mentally, and knows exactly what he wants to do defensively.
The other thing I want to point out regarding this specific clip is the direction which VanVleet forced KCP to drive. Even though he arrives late, Fred is still able to funnel Pope towards the baseline, where the help defender, Marc Gasol, is outside the paint waiting. He executes this by turning his body towards the baseline, which prevents his man from driving towards the middle, and forces him to drive along the baseline—and directly into the help defender. This type of defense is extremely difficult, and requires top-level awareness.
Before the pass to Gorgui Dieng, Marc Gasol is forced to help in the middle of the paint. This causes VanVleet to jab and recover. VanVleet charges toward Dieng, but with full intention of returning to his man—in this case, Grayson Allen. The goal is to force Dieng to hesitate with his decision, buying time for the defense. In the second part of this play, we see Fred turn his body back towards his man, and retreat. Hence, jab and recover.
One important thing to watch in this clip is how Fred always keeps his body facing Allen in the corner. Even as he runs at Dieng, his body stays positioned towards his man.
It seems as if the initial action was a dribble-handoff exchange between the Dieng and Allen, but when Allen sees Fred taking that away, he attempts to cut backdoor. This forces Dieng to reroute his decision making process and pick up the ball to make a pass right in front of VanVleet, allowing him to swipe at the ball and get his team the steal. Not only does VanVleet force the offense out of its primary action, but he's able to disrupt the counter to that as well.
Jumping the Driver
This is a skill that requires exquisite timing, or it will cause the majority of coaches to pull their hair out. Pretty well every coach that you talk to will say the same thing: "Help should come from the weak side, not the strong side." This is for a couple reasons. First, the weak-side defender has more time to step up, which results in fewer fouls. The more important reason, however, is that shooters on the same side of the court as the ball aren't left wide open as often.
Most of the time, strong-side help is performed through a jab-and-recover. This skill isn't common among basketball players because it requires patience and timing. The only time you should fully commit to jumping a driver when playing help on the strong side is when the ball-handler is focused in on the basket or the opposite side of the floor.
As we can see in the clip above, Fred doesn't fully commit to the steal 'till Bojan Bogdanovic has fully attempted to turn the corner towards the net. Fred can commit here, because he knows a pass out to Mike Conley Jr. is near-impossible.
This skill is more of an "extra." Fred has perfected so many other skills on the defensive end that Coach Nurse is fine with Fred taking a slight gamble on a play like this because he knows that FVV's timing is strong, and his recovery speed on a potential mishap is lightning-quick. (Or maybe he isn't, and maybe Fred gets yelled at a lot in the huddle).
Covering Cutters
Covering cutters is arguably the most important aspect of playing off-ball defense. This isn't so much about the technique used in covering the cutter, but rather staying aware and not getting backdoored.
Every defender, especially when they're off-ball, must stay fully engaged and aware at all times. In a league like the NBA, where offensive players are so smart, and athletic, the second a defender loses sight of his man, the offensive player could bolt to the opposite side of the court.
As far as the technique and skill it takes to cover a cutter goes, VanVleet lays it out perfectly in the first part of this clip.
The last thing you want to do is simply step in front of the cutter for them to run into you. Not only will you usually get called for a foul, but you'll get knocked off balance and allow the offensive player to get open off a v- or backdoor-cut because you can't turn and follow fast enough.
Covering a cutter 101: Trail the cutter slightly, face him while maintaining slight contact, and extend your off-arm out directly in the passing lane. It sounds fairly simple, but it can be easy to miss a step in the heat of a game.
Overall, VanVleet is a fantastic defender, especially considering his size. Toronto has a ton of strong defenders, but Fred is often charged with covering quick, skilled point guards, which is a tall and important task in today's league.
I think John says it perfectly:
"I would summarize by saying the Raptors are f***ed somewhat if he leaves via free agency" (John Chick).
Additionally
Listen to Matt and I interview Blake Murphy on The Playgrounder Podcast, as we discuss the Raptors' current series against the Celtics.